About Ivanko Plates
The Ivanko Barbell Company offers a wide range of cast iron, rubber encased and urethane weightlifting plates. Cast iron plates are newly manufactured incorporating a mixture of steel within the casting which increases the durability of the plate. CP series forged chrome plates are made from cold rolled steel and are precision machined. Ivanko Barbell Company also offers other finishes including a durable, chip resistant hammertone paint as well as specially bonded rubber encasement. A urethane encased plate for the ultimate in appearance and durability is now available and are made in the USA. Optional color logos are available in the urethane plate series. Ivanko's design expertise combined with the use of high grade materials during the manufacturing process result in a plate line that is highly accurate. Competition plate accuracy is within grams of the indicated weight. Ivanko operates its own foundry which ensures a high level of quality control and product consistency. Ivanko plates are not your average "run of the mill" department store weightlifting plates.
About Ivanko Bars and Collars

Ivanko bars and collars are constructed from the highest quality steels and alloy available. Ivanko bars are skillfully machined and knurled resulting in meticulous craftsmanship rarely seen within the industry.

A forged inner collar is incorporated on regular series bars and dumbbell handles. Ivanko bars are manufactured only using high grade components including steel sleeves that are press fitted and welded resulting in a smooth rotation, a necessity for competition weightlifting bars. Ivanko's competition bars are designed with a tensile strength far beyond what is necessary.

Ivanko's line of collars utilize a unique patented and ingenious locking system which ensures a secure grip and the highest level of performance and safety possible.


Ivanko's high level of engineering and craftsmanship may seem excessive, but building things correctly from the start without cutting corners is the only way to manufacture a quality product.
About Ivanko Dumbbells

Creative engineering, craftsmanship and use of quality materials and components allows Ivanko to manufacture a select range of quality dumbbells targeting the needs of various markets and budgets. From the high end health club to the garage gym, Ivanko has the equipment that will exceed your expectations.


All Ivanko fixed pro style dumbbells are assembled with regular series plates and are permanently secured to a hardened steel dumbbell handle with a variety of unique end plates and special alloy steel bolts resulting in a tighter lock(140 ft pounds torque). An attractive brass numbering system is incorporated into the end plate allowing for easy weight identification. Ivanko USA made Urethane dumbbells are manufactured with commercial grade urethane that is chemically fused to a solid steel core and will not split, crack or peel. Handles are mechanically fastened and non-welded. Ivanko's solid aerobic dumbbells are made from high quality ductile cast iron and are coated with an attractive and durable vinyl, urethane or rubber finish.


Ivanko's dumbbells are built with the highest quality ingredients to exceed the most demanding requirements. Don't be stuck with a cheap imitation.
About Ivanko Sets

Ivanko Barbell Company offers a wide variety of pre-configured Olympic sets for both competition and training use. Extremely accurate competition calibrated sets are used in international competition throughout the world.


About Us
Established in 1997 by Adam Auerbach, C.S.C.S., our web site proudly offers for sale genuine Ivanko Barbell weightlifting equipment.


Adam Auerbach IPF Junior World Record Deadlift 272.5kg(600 3/4 lbs) at 67.5kg(148lb bodyweight).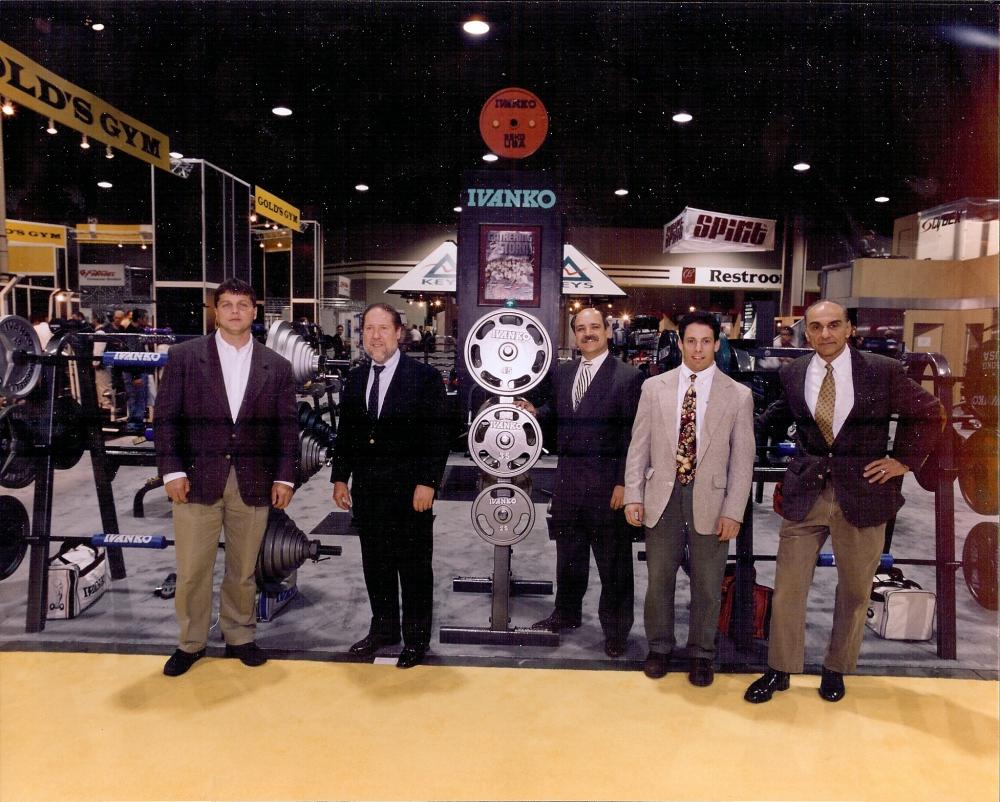 Adam Auerbach(2nd from right) hard at work with team Ivanko at the IHRSA show.
Telephone 775-742-3896
email: info@ivanko.com