James Hardy's Home Gym - by James Hardy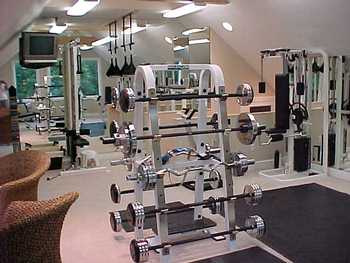 "Two and a half years ago I was trying to increase my life insurance for my business. After several blood tests failed because of high cholesterol I decided it was time to get back into shape, not that I was that far out of shape. My wife and I got involved with running and decided to run the Disney World Marathon Year 2000. After we completed the Marathon (that's a story in and of its self) we both noticed most recreational runners including ourselves are quite flabby above the waist. I started reading about cross training, something that would help with our running and make us look better. The answer for us was weight training. The first thing we had to look at was to join a club or create our own weight room. Our problem was all the clubs were at least 20 minutes away. Twenty minutes there and twenty minutes back, forty minutes. With our careers and kids we found the only time to work out was in the morning, (nobody wants your time early in the morning). The gym was too far away so we decided to create a weight room.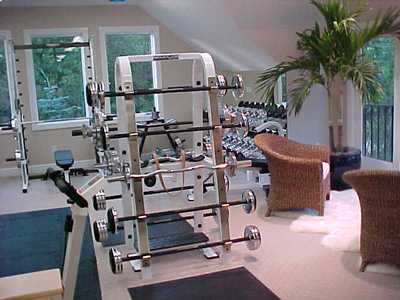 I built our home 4 years ago and never figured in a weight room. First we converted a single car garage into the weight room, but after I purchased my 44th birthday present (a Fat Boy Harley Davidson Motorcycle) we had to move the weight room. Where to build an extra room, over the garage was the only place I could think of. Getting together with James Glascock, Architect (he designed the house originally) we worked out the details and started construction. The roof trusses were completely removed, we then stick framed the new roof. Adding windows to the east looking up at the mountains and a Peter Pan balcony over looking the back yard, complete with French doors.

Aside from the exercise equipment, the room features a new heating and air conditioning system, two ceiling fans, mirrors on three walls and a small desk for books, magazines, lifting belts & gloves. Also installed is a TV- VCR- DVD combo for morning news, music or work out videos.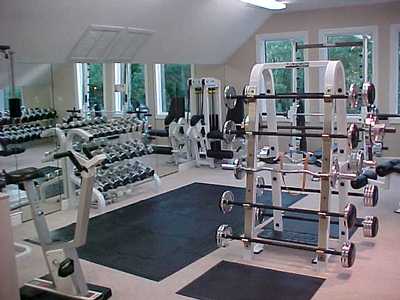 All the Olympic plates are Ivanko chrome (OMC series) as well as the fixed pro-style barbells with black bars, chrome plates and rubber end plates(CBBH CP EPR). The racks I purchased through Adam are by Maxicam. Maxicam & Ivanko. Great Equipment! The leg extension / curl, Smith bench flat / incline, flat / decline bench, & calf platform are Atlantis. Great Equipment! Rubber gym mats(Interlocking Rubber Flooring) - Ivanko. Stationary bike- Precor. Chin-up bar I had made locally. Smith machine- Powertec, marginal equipment. Pec Dec & Lat machine are Iron Master, ok equipment. Since I'm giving you an equipment list, I thought I'd critique it!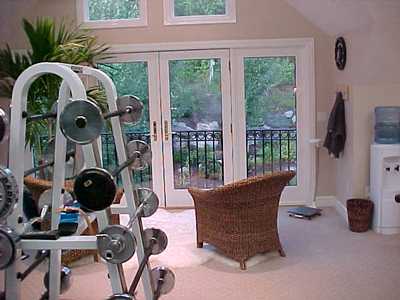 The gym has been a great addition to our home. My wife, kids and myself use the weight room at least three times a week and all the sweat is ours."


Telephone 775-742-3896
email: info@ivanko.com