Lipscomb University Bisons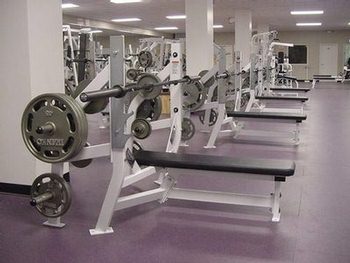 John Hudy is the head strength and conditioning coach at Lipscomb University in Nashville Tennessee. He has earned a masters of science from Middle Tennessee State University. He completed his undergraduate work at Lipscomb University. In addition to his Master's degree, John has earned his Certified Strength & Conditioning Specialist (CSCS) certification from the National Strength & Conditioning Association (NSCA) as well as his United States Weightlifting Coaching Certification.

Lipscomb's new facility sports Ivanko free weights including eight tons of Ivanko EZ Lift plates and Ivanko pro style fixed plate dumbbells, four Power Lift platforms, four Hammer Strength benches and four Hammer Strength squat racks. In addition to the 40-plus Hammer Strength, Life Strength, and Life Fitness cardio equipment, this facility also houses brand new testing, speed, agility, and plyometric equipment. The flooring is made by Mondo Sport Impact.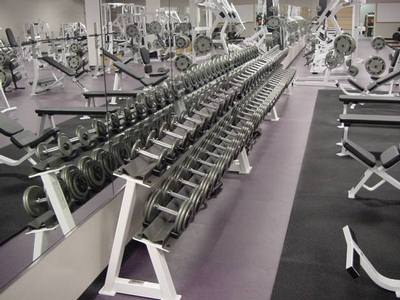 The Bison's 5000 square foot weight room was completed in March of 2000. John's goal was to design a modern training facility that would meet the strength and conditioning needs of the today's student athletes as well as future athletes for years to come. He installed equipment that would withstand the rigors of college athletes throughout the years.

John's main emphasis is free weight training and he spends a lot of time with the athletes on the Olympic platforms and squat racks. He does not preclude training with machines as it provides an option for training athletes with injuries, provides a change of pace and is used for athletes who have a difficult time training some of the more complex free weight exercises.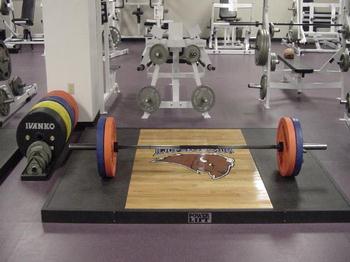 As an NCAA coach, John knows that time constraints in an intercollegiate weight room are a fact of life, so he made sure every workstation would have a full allotment of weights and each piece of equipment would have weight horns attached to them in order to save precious space. This would prevent athletes and coaches wasting time and energy chasing down plates. John choose Ivanko EZ Lift plates for his weight room as they are designed for safety, ease of movement and longevity.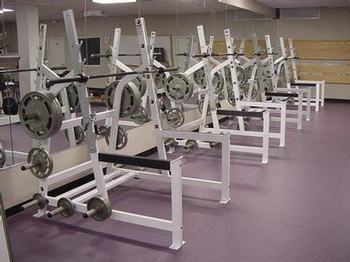 John had a good idea of what his weight room would look like before it was built. He planned the layout by cutting out a picture of each piece of equipment and placed the dimensions on the picture if they were not already there. He knew what pieces he wanted facing mirrors. His facility would have mirrors on one long wall with the squat racks facing the mirrors. The platforms would be placed on the aisle opposite the squat racks, facing the mirrors, but they would be in between the squat racks so the athlete could watch their lifting form. Other equipment facing the mirrors are the Jammer, Combo Twist, Ground Based Deadlift, military racks, smith machine and the dumbbells.

John measured the room and the support columns that stood in the middle of the room and laid out each piece on a big table. He totaled up the equipment dimensions and then added in the needed distance between pieces of equipment. Three feet of space were given between bar ends. The equipment movement arms were also taken into dimension consideration.

John then placed pieces of paper where he wanted the equipment to go. He grouped the pieces of equipment in sections according to the muscles being worked. Squat racks and platforms were in one area and chest, shoulders, leg machines, abdominal, cardiovascular, medicine ball and back machines were grouped together if possible.


Once John was satisfied with the way he had the room arranged on paper, he numbered each piece of equipment so he could pick it up and move it or put it aside until the equipment actually arrived. John figured there was a good chance he would have to rearrange some things once the equipment finally arrived.

According to John, it is difficult to visualize the size and flow of the room. Two big considerations in the layout were the flow of traffic and the safety of certain areas of the weight room. John wanted to be able to see the platforms from his office if possible even though there are very few times he is in the office when the platforms are in use.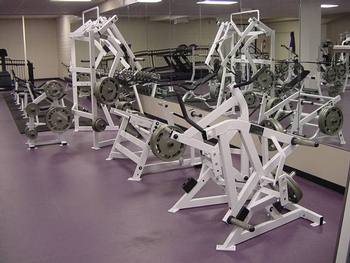 The free weight section is divided into three areas where safety and high supervision are necessary:


Squat/Platform area
Dumbbell area
Bench area
John wanted the aisles to be as wide as possible and for there to be as much room between pieces of equipment as he could get. He wanted to place high use areas where safety was a concern, away from the main flow of traffic.

Everything worked out as planned except for the Jungle Gym had to be moved. This is a large piece of equipment and it was spatially difficult to place.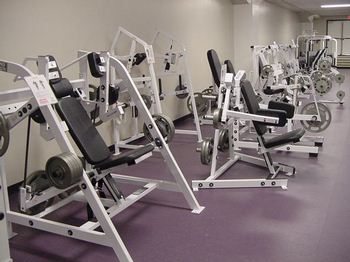 Overall, the layout has worked very well for John, his coaching staff and the athletes. Equipment does not have to be moved. Dumbbells are confined to the dumbbell area and 3/4" mats under the benches add extra protection for the floor and equipment. Bars do not have to be moved or shared. The short bars and curl bars are located in the dumbbell areas where the athletes have plenty of room to work out.

With proper scheduling, the coaches can accommodate two teams of 15-20 athletes at a time. Three teams will work if they are smaller and their workouts are taken into consideration. John's weight room layout has provided the best possible opportunity for training and allows the athletes to squeeze the most out of their workouts considering the time constraints involved. A good sized room, plenty of equipment, quality program design and proper scheduling help accommodate the teams at Lipscomb.
Telephone 775-742-3896
email: info@ivanko.com