Powerlifting Pit Gym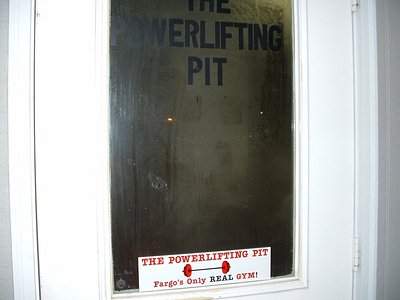 The Powerlifting Pit gym is a small hardcore powerlifting club located in Fargo North Dakota, founded in April 2002 by Richard Edinger. The Powerlifting Pit is a classic example of the "grass roots" style of small powerlifting clubs that are increasing in popularity across the country. These hardcore gyms are typically started on a "shoe string" budget made up of contributions by enthusiastic local lifters.
Most commercial health clubs and gyms are reluctant to include a powerlifting area in their gym and many discourage this type of weight training altogether. This negative attitude towards hardcore lifting has forced many serious powerlifiters, "Olympic Style" weightlifters and other strength athletes to resort to training in make shift basement or garage gyms and itís not unusual for the lifters to enter on a key access membership basis. Very often, only the bare necessities are used in the hardcore gyms since most members train with freeweights as machines are expensive and take up precious space in the gym.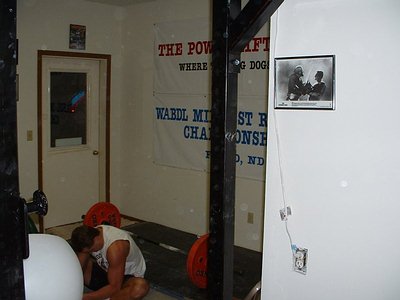 Richard was tired of the commercial gym atmosphere and he wanted to take his powerlifting training to the next level, so he rented a two room office initially. Recently he tore part of wall out which increased the space to 330 square feet to make room for a power rack.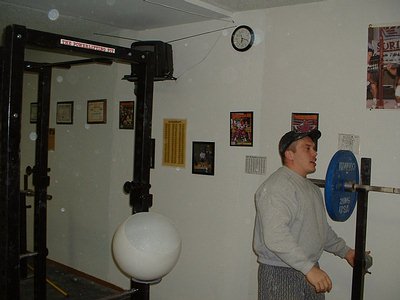 The most important aspect of the gym was to try and create a highly motivating training atmosphere. This was achieved by installing commercial quality strength training equipment.

The gym is outfitted with the following equipment:


1275 lbs of Ivanko competition color coded plates
90 kg. of bumper plates, including a pair of Ivanko 25 kg.
two competition power bars
one Ivanko weightlifting bar
two pairs of Ivanko collars
two pairs of clip on collars
one competition bench
pair of squat stands
one platform
one power rack
one adjustable dumbbell bench
elastic bands (green and blue)
one lat pulldown/row machine
one chalk bowl
dumbbells ranging 5lbs. - 70 lbs. in 5 lb. increments, also 100 lbs. & 110 lbs.
Tv/vcr and video camera to help view, film and analyze lifting technique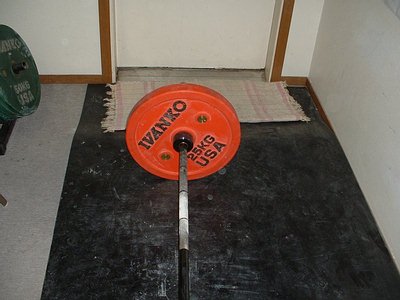 The platform is constructed of 3 sheets of 4" x 8" plywood stacked together and a 1/4" rubber mat on top. Although the platform is small, it does the job.
Richard chose Ivanko precision calibrated plates because he believed competitive powerlifters, who strive to compete at the national level should train with the same equipment they will be using at a national meet. In his opinion, one reason for the high number of bombouts at Nationals, could have been caused by lifters training with uncalibrated plates in the gym. Unaware the actual weight of the plates was lighter than their marked weight resulted in attempts in competition that were just out of range of their ability. For example, a 1.5% variance of a 600 lbs. squat is 9 pounds. The lifter has the false sense of security, thinking he made 600 lbs. in training, but in reality the weight was only 591 lbs.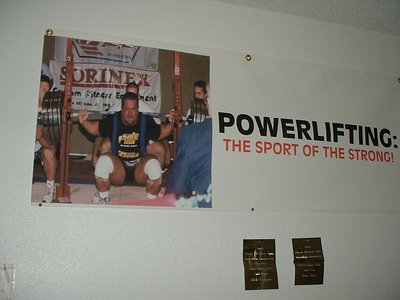 To help reinforce the motivating training environment Richard strived for at the Powerlifting Pit, autographed Powerlifting USA magazine covers adorn the wall, along with record certificates and posters of great lifters. (e.g. Coan, Hall, Gene Bell, Dan Austin, and Shawn Cain.)
Ideally, Richard wishes the gym was bigger to accommodate additional equipment such as a reverse hyper and a leg curl. However he feels with some imagination, most exercises can be duplicated especially with the use of the power rack.
Richard estimates the total investment for the Powerlifting pit was approximately six thousand dollars.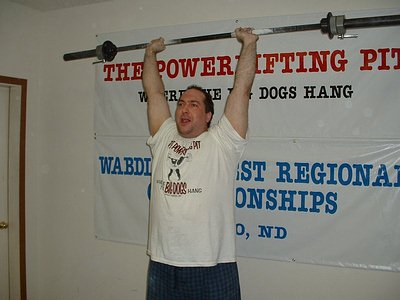 The Powerlifting Pit membership is made up of a core group of 8 motivated lifters who usually split up into two training sessions consisting of 3-4 lifters per session. Richard's group includes his training partner Tom Hines and two other lifters. They are gearing up for the USAPL Men's Nationals in the summer. Another member is training for Master's Nationals.
For more information about the Powerlifting Pit, email Richard Edinger at: powerliftingpit@cableone.net
Telephone 775-742-3896
email: info@ivanko.com